You can taste Hanagaki, Nambu Shuzojo from Fukui prefecture, and Kumpeki, Kunpeki Sake Brewery from Aichi prefecture.
Hanagaki (Nambu Shuzojo)
Nambu Shuzojo is located in Ono city, Fukui. It is a castle town located in the Hokuriku region with more than 400-years of history. This town still holds a strong image of a castle town and it is well-known as "Little Kyoto."
Ono City is surrounded by a magnificent natural environment. It has many mountains including "Arashimadake," one of the selected "one hundred exquisite mountains of Japan." Ono City has also been selected as one of the "one hundred exquisite towns with water wells in Japan" designated by the National Land Agency because the city has famous spring water, "Oshozu," which was selected as one of the "one hundred exquisite waters of Japan." Ono City's impressive old scenery and its rich nature is also known as "Yui no Kuni." Because of that in Ono city, there are 4 sake brewers which have existed for a long time.
Hanagaki Super dry (Chokarakuchi) Junmai is Sake Meter Value (SMV) 12+. The higher number, the drier. This is not added brewing alcohol, It is made by complete fermentation method of brewing. If you are super dry fan, you should try it.
Tasting at home by amazon
Hanagaki Junmai Chokarakuchi (Super Dry) 花垣(はながき) 純米酒 超辛口  720ML ≪福井県≫
Kunpeki (Kunpeki Sake Brewery)
Founded in Aichi Japan, Kunpeki Sake Brewery has a history of more than 100 years in sake brewing. It is located in Konan city. In this city, there are 3 sake breweries. They use the Kiso river's underground flow water for brewing sake.
Their sake is conscientiously prepared and brewed in small batch. Every step of sake making is accomplished by united efforts of the whole family. The yeasts are carefully screened and selected, only the ones that are approved by their master brewer are used for brewing in their brewery.
In Konan, every year from the mid April to early May at the Mandaraji Park, Konan Wisteria Festival is held. Japanese wisteria mesmerize people by its mysterious beauty and fragrance. The wisteria pergolas set up in the park have around 60 wisterias from twelve species ranging from early to late bloomers, and visitors get to enjoy a variety of forms of wisterias, from brightly colored wisterias in purple, crimson, white and so on, and from long, elegant flower clusters to short, pretty wisterias.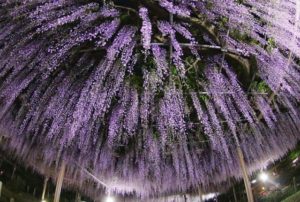 If you are to come Japan from mid April to early May, why don't you enjoy tunnels of wisteria in full bloom while drinking sake?
Tasting at home by amazon
Kunpeki Junmai 勲碧 手造り純米酒1800ml
Kunpeki Sake Brewery Home page
DATE AND TIME
2018/09/20 (Thu)~2018/09/26 (Wed) 10:00~20:00
You cannot go? Check out ichibansake Event Calendar
LOCATION
Ikebukuro Tobu Department Store B1F
1 Chome-1-25 Nishiikebukuro, Toshima, Tokyo 171-0021
Access
Directly connected to "Ikebukuro station"
Web site
For more information visit, 東武百貨店 池袋店 日本酒催事スケジュール