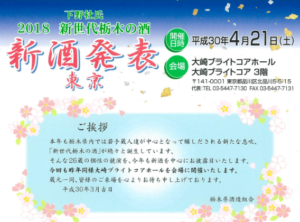 New generation Tochigi sake Shimotsuke toji event for New sake 2018 in Tokyo
It will be in three parts, "Part 1", "Sake Seminar" and "Part 2".
Part 1 is for Liquor store / restaurant, General customers can not enter.
Sake Seminar is available for who purchase tickets for Part 1 or Part 2. (the first 50 persons only)
Part 2 is for General Customers.
【Sake Seminar (Free, no advance application required)】(Japanese)
· Speaker: Ms. Kiyoko Yamauchi
· Time: 5 pm – 6 pm (60 min)
· Venue: Osaki Bright Core Hall 3F
【Part 2: General Customers】
· Doors open 6:30 pm
· Time: 7 pm – 9 pm (120 min)
· Venue: Osaki Bright Core Hall 3F
· Fee: 4000 yen (Snack style lunch box with Mashiko pottary, a specialty of Tochigi, sake cup)
· 300 tickets is on sale till April 10 (Tue) 18: 00
Lineup of Sake
『菊』 虎屋本店            『十一正宗』 森戸酒造
『澤姫』 井上清吉商店         『富美川・忠愛』 富川酒造店
『四季桜』 宇都宮酒造         『松の寿』 松井酒造店
『若盛・門外不出』 西堀酒造      『仙禽』 せんきん
『若駒』 若駒酒造           『東力士』 島崎酒造
『雄東正宗』 杉田酒造         『とちあかね』 白相酒造
『朝日栄』 相良酒造          『天鷹』 天鷹酒造
『鳳凰美田』 小林酒造         『旭興』 渡邉酒造
『北冠』 北関酒造           『大那』 菊の里酒造
『清開・日光譽』 渡邊佐平商店     『かんなびの里』 (資)小島酒造店
『柏盛』 片山酒造
『杉並木・姿』 飯沼銘醸
『開華』 第一酒造
『桜川』 辻善兵衛商店
『燦爛・望bo』 外池酒造店
『惣誉』 惣誉酒造
DATE AND TIME
2018/4/21 (Sat)
Sake Seminar  17:00 – 18:00 (Free, the first 50 persons only)
Second part 19:00 – 21:00 (Doors open 18:30)
You cannot go? Check out ichibansake Event Calendar
LOCATION
Osaki Bright Core Hall 3F
5 Chome 5−15, Kitashinagawa, Shinagawa-ku, Tokyo
東京都品川区北品川5丁目5-15 大崎ブライトコアホール 3F
Access
JR Yamanote Line, JR Saikyo Line, JR Shonan Shinjuku Line, Rinkai Line "Osaki Station"
5 Minutes on foot from the station
Advance Ticket 
Web site
For more information visit, 新世代栃木の酒 下野杜氏 新酒発表2018