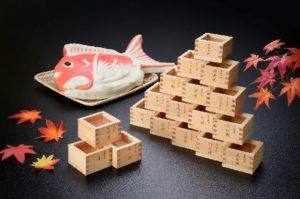 "Toyama" means "rich with mountains" and the city offers stunning views of the 3,000 meter crest of the Northern Japan Alps from its picture perfect location on the Sea of Japan, only 250 km northwest of Tokyo.
Toyama Sake
Water is an essential ingredient which plays a key role in the brewing of sake. Toyama is blessed with an abundance of pristine, clear water, making it the perfect place for sake brewing. In addition, Toyama is also a fertile land ideal for growing rice, therefore the making of Japanese sake, for which the primary ingredient is rice, has flourished in many regions throughout the prefecture. The taste and flavor of the sake varies between sake breweries, so enjoy sampling and comparing a few before you find the one for you.
The Japanese sake produced in Toyama uses around 80% of rice ideal for sake-brewing, which is much higher than the 20% or so used on average in Japan. As such, Toyama produces brands highly regarded throughout Japan for their smooth, yet refreshing flavours. Partaking of this beautiful sake while dining on Toyama's Kamaboko made by fresh fish will guarantee you a luxurious moment like no other.
Kamaboko (Steamed fish cake)
Toyama developed its own unique kamaboko culture thanks to the fresh bounty of the sea found in Toyama Bay and the skill of traditional craftsmen. The most famous of the kamaboko products on offer is "Konbu-maki Kamaboko" (konbu-wrapped kamaboko).This kamaboko offers a taste which hints at the flavors of local Toyama cuisine, as a place where the konbu food culture is strongly established. There is also a form of kamaboko made with sea bream, and this is often given as a gift in Toyama for special occasions or to say thanks.
Tasting Toyama sake at home by amazon
DATE AND TIME
2018/09/16(Sun)
Part1: 13:00 – 15:00 (350ppl)
Part2: 15:30 – 17:30 (350ppl)
Note: Tickets are valid for one session only.
– You cannot go? Check out ichibansake Event Calendar
LOCATION
Tokyo Kotsu Kaikan 12F
2 Chome-10-1 Yurakucho, Chiyoda, Tokyo 100-0006
Access
1 min. walk from JR "Yurakucho" Station Kyobashiguchi Exit・Chuoguchi Exit (Ginza side)
1 min. walk from Tokyo Metro Yurakucho Line "Yurakucho" Station Exit D8・"Ginza 1 Chome" Station Exit No.2
3 min. walk from Tokyo Metro Marunouchi Line・Ginza Line・Hibiya Line "Ginza" Station Exit C9
Ticket
¥2,500
Include sake(¥600) and kamaboko(¥600) shopping coupon in the ticket price.
Advance ticket Link
At the Door
¥3,000
Web site
For more information visit, 富山の酒とかまぼこフェア実行委員会