You can taste Iwanoi, Iwase shuzo from Chiba prefecture, and Echigo Tsurukame,  Echigo Tsurukame from Niigata prefecture.
Iwanoi (Iwase shuzo)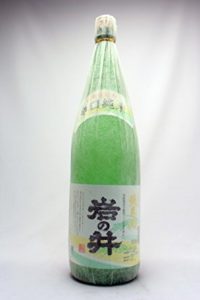 The brewery is believed to have been founded in 1723 and was operated as a sideline over the generations. Iwanoi gets its name from the Japanese phrase for the "Iwase well". 80% or more of sake is water. For that reason, water is very important in sake brewing.
Water for sake brewing should be good for drinking, with proper amount of minerals such as calcium and magnesium. Iwase shuzo is located near coast, so the groundwater passes through the shell layer and the sake brewing water is relatively harder and suitable for brewing.
High content of calcium and potassium help drive yeast propagation. To use the hard water and Yamahai Jikomi which is a traditional slow fermentation technique process at low temperatures with extra time and care. It gives this sake width & depth in a flavor and semi dry taste with a good amount of acid. Iwai shuzo is committed to Yamahai Jikomi, now more than 2 third of all sake brewing is Yamahai Jikomi style.
Echigo Tsurukame (Echigo Tsurukame)
Echigo Tsurukame was established in 1890. It is located in foot of mountain "Kakudayama", takes about 1 hour by car from city center of Niigata prefecture.
Tsurukame means crane and tortoise (symbol of longevity, artistic motif). The brewery named that to make people easy-to understand and a congratulatory trademark. They are aiming for a delicious sake that is pleasing to people.
To keep the highest sake quality that would be satisfied, Tsurukame dare to stick to small production. From the selection of sake rice to setting appropriate rice washing condition and best water absorption condition, they try variety of condition and draw out the characteristics of raw material of sake rice by proficient skills of technique.
Also, it is said that sake brewing begins with koji and ends with koji. The koji performs 3 main roles; the biggest of which is to produce enzymes.
Provide enzymes that dissolve the steamed rice and facilitate saccharification.
Provide nutrients for the yeast starter: vitamins and amino acids.
Provide the ingredients for flavour and aroma.
Koji making of Echigo Tsurukame sticks to the characteristics of rice and uses "Kojiri Box". It makes Toji (head sake brewer) can utilize their technique and sense from highly skilled experience to make rich and strong koji. Please enjoy tasteful and natural rich flavor of Echigo Turukame.
DATE AND TIME
2018/5/17 (Thu) – 23 (Wed) 10:00~20:00
You cannot go? Check out ichibansake Event Calendar
LOCATION
Ikebukuro Tobu Department Store B1F
1 Chome-1-25 Nishiikebukuro, Toshima, Tokyo 171-0021
Access
Directly connected to "Ikebukuro station"
Web site
For more information visit, 東武百貨店 池袋店 日本酒催事スケジュール