You can taste Mansaku no Hana, Hinomaru Jozo Co., Ltd. from Akita prefecture, and Tama no Hikari, TAMANOHIKARI Sake Brewing Co., Ltd. from Kyoto prefecture.
Mansaku no Hana (Hinomaru Jozo Co., Ltd. )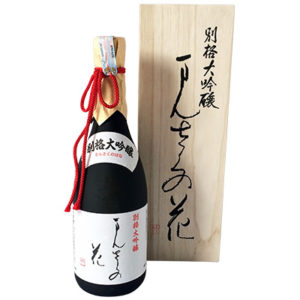 Hinomaru Jozo is located in Masudamachi, in Yokote city in the picturesque snow country of Akita, Japan. Akita has long, harsh, snowy winters. In the height of the winter season, Hinomaru Jozo's touji (sake master) Ryoji Takahashi can be found with his hands buried deep in cold, mashed rice, preparing it for fermentation.
Like many older breweries and distilleries, Hinomaru Jozo follows traditions that date back to when it was first founded almost 330 years ago, in 1689. Something the Hinomaru Brewery is proud of is the usage of the "rising sun" imagery, 200 years prior to its official association with the Japanese flag and government. The logo and name were created by the feudal leader of the region at the time: Lord Satake.
But there is more to a distillery than a name and a logo. Their motto, coupling "quality first" with "challenging spirit," reflects the rigorous process involved in concocting the perfect sake mix. Still to this day, everything is done by hand: the rice growing, harvesting, mashing, steaming, transferring, and bottling. One of the key elements that helps Hinomaru's sake stand out is the usage of small, 1.8-liter bottles to store and age the sake, as opposed to more common practice of storing and aging sake in massive, 500 to 1000–liter barrels at other breweries. There is no better example of Hinomaru's quality nihonshu than the Mansakuno Hana brand: named for the mansakuno flower and created to commemorate a popular NHK TV drama that was set in Akita, it can be found at restaurants around the world. An even more refined variety of this sake is the Mansakuno Hana Daiginjo, whose beautiful pale gold color matches its fruity aroma—like that of apples or pears.
The Akita snow is a crucial indirect ingredient: keeping the building cold and frosty creates a specific flavor and texture known only to Hinomaru's brand-name sake. A crisp, sweet, fruity winter taste dominates their flavor profiles, and complements the famous sour pickled vegetables of the north. Winter in Akita is suddenly much less cold when it's paired with a bottle of sake from Hinomaru Jozo.
Hinomaru Jozo Co., Ltd. Home page
Tama no Hikari (TAMANOHIKARI Sake Brewing Co., Ltd.)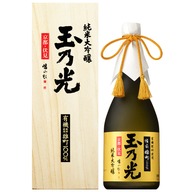 Established 1673. Tamanohikari was one of the first breweries in Japan to popularize junmai sake in the 1960s. This was cutting edge and risky at the time—junmai sake consumes 1.8 times the amount of rice compared to non-junmai varieties and this was being introduced to a customer base not familiar with the benefits. Furthermore, Tamanohikari primarily use bizen-omachi, yamadanishiki, and iwai rice for their sake. These are all more expensive, rarer breeds of rice strains.
Because Tamanohikari is made only with rice, water, and koji, our commitment to rice is extraordinary. Each spring we visit the locations where our rice is produced. Our employees put on long boots and stand next to the rice planting farmers. We only use rice that meets our one-of-a-kind strict standards. Nothing else that.
Half a century has passed since Tamanohikari revived the tradition of junmai pure rice sake. Today more and more people appreciate the quality of junmai and ginjo pure sake. But still, you could look all over Japan and you will find only a handful of breweries dedicated to the making of junmai ginjyo and junmai dai-ginjo. As one of Japan's only junmai ginjo breweries, we will continue to uphold the traditions of years past here in Fushimi, Kyoto, and simply make the best possible sake.
TAMANOHIKARI Sake Brewing Co., Ltd. Home page
DATE AND TIME
2018/6/21 (Thu) – 6/27 (Wed) 10:00~20:00
You cannot go? Check out ichibansake Event Calendar
LOCATION
Ikebukuro Tobu Department Store B1F
1 Chome-1-25 Nishiikebukuro, Toshima, Tokyo 171-0021
Access
Directly connected to "Ikebukuro station"
Web site
For more information visit, 東武百貨店 池袋店 日本酒催事スケジュール