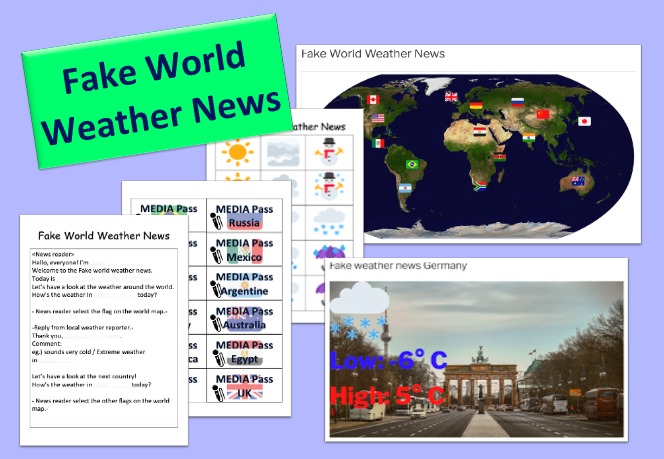 This is good for ESL and Kindergarten to lower grade students in Science, Maths and Geography area. Students will know each country location and flag. Students can get used to speak number, weather and develop thinking about how weather impact their own life.
Weather list is below.
How to Play
Teacher print out script page and "media pass card".Each students draw a media card and set a role of play.I made news reader and local weather reporter script. You can reference it. Students have to comment from weather condition spontaneously such as "Enjoy sunshine."
Script download: Fake World Weather News script sheets PYP How The World Works
Temperature is random setting so, it might snow with 30 degree. It is "Extreme weather!"
It will be good for the summarising weather impact in their life. Students will like it. Project onto the interactive whiteboard and presentation in front of there, looks like real TV reporter.
Enjoy Fake weather news.
Weather list
| | | | | |
| --- | --- | --- | --- | --- |
| | | | | |