You can taste Yukitsuru, Tahara Sake Brewery, from Niigata prefecture and Fukuju, Kobe Shushinkan Breweries from Hyogo prefecture.
Yukitsuru (Tahara Sake Brewery)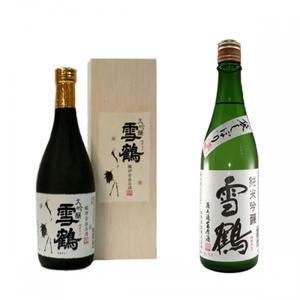 Established 1897. Tahara shuzo is located in the southwest of Niigata Prefecture.
Generally, the characteristics of Niigata sake known as "Tanrei Karakuchi" or very refined, light and dry. However, "Yukitsuru" is rich Umami taste local sake.
That portion of the brewing water which is used in mashing ("mashing water", shikomi-sui) has a significant influence on moromi fermentation and sake quality.
For "Yukitsuru", they use natural springs in the foot of Kubikikomagatake.
There is a well in the brewer premises, once they have used the water, which is medium hard water. Although it is suitable for dry taste sake, it is unsuitable for making soft and gentle texture "Yukitsuru".
They cannot access to the spring water area because road closures during winter, from mid December to early March. Therefore they storage the spring water in a 10,000L tank to keep "Yukitsuru" sake quality.
Tasting at home by amazon
Yukitsuru Junmai 田原酒造 雪鶴 純米酒 720ml 新潟県の日本酒
Fukuju (Kobe Shushinkan Breweries)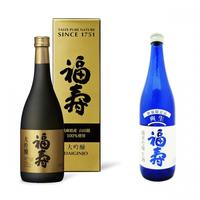 Founded 1751. The best sake rice and source water are brewed carefully. The brewery is located in the famous sake village Nada in Kobe in Hyogo prefecture. Because of the high quality sake from Nada was already famous during the shogun period. The water is rich in minerals and generates a clear and powerful sake profile. Therefore sake from Nada is called "Otoko-sake (men's sake)".
FUKUJU Chotokusen Daigin is awarded SAKE COMPETITION 2018 Ginjo GOLD. Fukuju Junmai Ginjo was served at the dinner and reception for the Japanese scientist who won the Nobel Prize in 2012. Since then it has become ultra popular in Japan and you cannot find it on the shelves anywhere.
Tasting at home by amazon
Fukuju Junmai Ginjo 神戸酒心館 福寿 純米吟醸 化粧箱入り 720ml [兵庫県]
Kobe Shushinkan Breweries Home page
DATE AND TIME
2018/6/20 (Wed) – 6/26(Tue)
-You cannot go? Check out ichibansake Event Calendar
LOCATION
Seibu Ikebukuro B1F
〒171-0022 Tokyo, Toshima, Minamiikebukuro, 1 Chome−28−1
Access
Directly connect
Ikebukuro Station South Exit, Exit 38, Exit 36
Web site
For more information visit, 今週の酒と肴