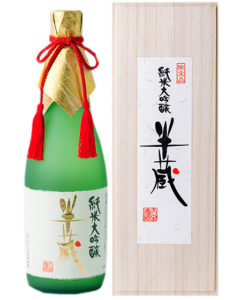 You can taste Hanzo, Ota Sake Brewery from Mie prefecture.
Line up
Junmai daiginjo Hanzo nakagumi nama genshu
Junmai daiginjo Hanzo Kaminoho nama gensyu
Tokubetsu junmai nama genshu Hanzo Kaminoho
-Nakagumi, the mid-cut, is the second pressing of a batch of sake.
-Nama is unpasteurized, Genshu is undiluted cask strength.
Ota Sake Brewery
The products of Ota Sake Brewery Co., Ltd. are largely hand-made according to traditional production techniques. The brew master, or "Toji", is the most important person in the brewing process. He controls the quality of the sake by deciding at what temperature the fermentation process takes place. He also supervises all the other workers. The most important period in the sake making process is from November to April, since the low winter temperatures benefit the sake quality.
During this time, the brew master is always present in the brewery, continuously checking the temperature of the raw sake, even during the night. Many experienced brew masters are originally from the Tohoku area of Northern Honshu.
The brew master at Ota Sake Brewery Co., Ltd., Mr. Hisamitsu Fujii, 71, comes from Iwate Prefecture, also located in Tohoku, and is a member of the "Nambu Toji" Brew Master Guild. His skills, combined with 50 years of sake making know-how at Ota Sake Brewery Co., Ltd., where management and staff is working together as a team with the determination to only produce the highest quality.
Hanzo Junmai Daiginjo 【Kami No Ho】
Exclusively made with the "Kami No Ho" variety of sake rice, especially developed over 12 years for the Mie area, which was described as "God's country" in Japanese legends. It features a fresh, particularly smooth flavor, the way sake should taste.
Rice: Kami No Ho
Seimaibuai (The degree of polishing rice): 50%
The degree of Sake: +2
Alcohol: 15%
How to serve: Under 15℃ is good, but best is chilled at 7-10℃
Suitable for both Japanese and Western style meal
Hanzo Junmai Daiginjo was selected for G7 Ise-Shima Summit ,May 26 Working Dinner. Because of that Hanzo Junmai Daiginjo 【Kami No Ho】is short supply now, it will re-sell May or June, 2018.
DATE AND TIME
2018/4/5 (Thu) -11(Wed) 10:00~20:00
LOCATION
Ikebukuro Tobu Department Store B1F
1 Chome-1-25 Nishiikebukuro, Toshima, Tokyo 171-0021
Access
Directly connected to "Ikebukuro station"
Web site
For more information visit, 大田酒造