You can taste Gangi, Yaoshin Shuzo K.K., from Yamaguchi prefecture, and Hokko Masamune, Kadoguchi Sake Brewery from Nagano prefecture.
Gangi (Yaoshin Shuzo K.K.)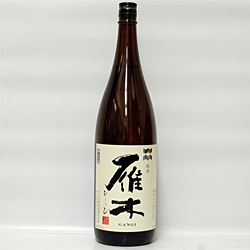 Yaoshin Shuzo is located beside the river mouse of Nishiki River in Yamaguchi prefecture. Gangi means the special pier to land sake brewery rice comes from the upstream of river.
In ancient time, it was common to transport brewery rice through the river. Yaoshin Shuzo has experience one huge hard time caused from the change of natural environment. Through this experience, they have understood the greatness of nature, and decided to produce only produce Junmai type sake.
"Don't put any additional ingredients and too much hands of human" is Yaoshin Shuzo policy. They know the nature is greater than human being and sake is the gift from nature. What only human needs to do is organizing the environment to let nature bring their potential out and selecting the rice and water suit with the brewing environment of Gangi.
Especially, water is the key factor of Gangi style. Yaoshin Shuzo have experienced a serious problem caused from water, so that they know the importance of water more than other breweries.
Hokko Masamune (Kadoguchi Sake Brewery)
Established in 1869, it is located on the most northern part of Nagano, close to Niigata. During the winter of heavy snowfall of 3 meters or more the winter are harsh and cold. The inner part of the northern Nagano area the brewery started making sake surrounded by nature and the cold winters. As for present day, the 5th president is continuing the legacy of making traditional sake.Headed by master brewer, the brewery staff combine years of experience and a passion for sake brewing to create high quality sake.
"The love of the local people is what makes a true local sake," is Kadoguchi Brewery's principle, and it is proved a hundred times over in the popularity of their "Hokko Masamune" – clean and dry, but with the aroma and "umami" of rice. The northern-most brewery in the Prefecture taps into the aquifer under Mount Nabekura, spanning Iiyama City to Niigata Prefecture as its water source. Since its establishment in 1869, Kadoguchi has actively pursued new and innovative techniques and methods to create new and exciting discoveries for the people of Iiyama.
Kadoguchi Sake Brewery said "While a good evaluation by an expert at an exposition or show is also important, we place just as much value on creating good quality sake at a price range that can be regularly consumed by the local population." This is the type of sake that through it's taste, can showcase the local colour and characteristics. Perhaps the biggest defining characteristic of Nagano, and especially Iiyama, is that all 3 crucial factors in brewing a good sake – water, rice and Toji – can be locally sourced. It might be due to this that Kadoguchi Sake Brewery has such a high local consumption rate of local sakes.
Kadoguchi Sake Brewery Home page
DATE AND TIME
2018/5/31 (Thu) – 6/6 (Wed) 10:00~20:00
You cannot go? Check out ichibansake Event Calendar
LOCATION
Ikebukuro Tobu Department Store B1F
1 Chome-1-25 Nishiikebukuro, Toshima, Tokyo 171-0021
Access
Directly connected to "Ikebukuro station"
Web site
For more information visit, 東武百貨店 池袋店 日本酒催事スケジュール