You can taste Dewazakura, DEWAZAKURA SAKE BREWERY CO.,LTD from Yamagata prefecture, and Matsunokotobuki, Matsui Breweries Co Ltd. from Tochigi prefecture.
Dewazakura (DEWAZAKURA SAKE BREWERY CO.,LTD)
Dewazakura Sake Brewery was founded in 1892. It is is located in Tendo City, Yamagata Prefecture. Tendo city is in the middle of Yamagata Prefecture. Situated in between mountains, it's the perfect place for a quick getaway from a big city like Tokyo. If you're planning to visit the Tohoku region, this is a perfect place to start. If you like soba, beef, delicious fruits and Shogi (Japanese chess- Tendo is the main producer in the whole country), Tendo is your perfect getaway destination.
Situated in the Yamagata Basin and surrounded by high mountains, Tendo City is hot in summer, often exceeding 35 degrees Celsius, and in the winter can receive considerable snowfall, often exceeding one meter in depth. These natural features, including the climate, have made the region a major production center of rice, fruits and other products. Using this great rice, they have been making sake by hand. For example, they use small tanks enough to handle manually. It makes precision temperature control possible, which in turn allows us to brew high-quality sake in small quantities.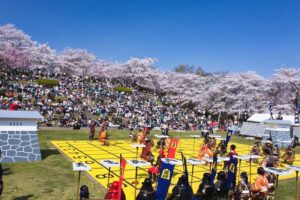 Since the Edo era, Tendo has played an important role in the production and manufacture of Japanese "Shogi" chess pieces. Many events and games are organized through the year to celebrate the traditional game. The most famous is in spring when people dress up as human chess pieces for "Ningen Shogi" and play the game out on a human scale. Sit amongst the blooming trees and watch the human pieces play out games of Shogi.
Why don't you watching "Ningen Shogi" while tasting Sake?
Tasting at home by amazon
Dewazakura Oka Ginjo 出羽桜酒造 出羽桜(でわざくら) 桜花 吟醸酒 720ml
DEWAZAKURA SAKE BREWERY CO.,LTD Home page
Matsunokotobuki (Matsui Breweries Co Ltd.)
Shioya is a town located in near Nikko, Tochigi Prefecture, in the northern Kanto region of Japan. Matsui Breweries is founded in 1865.
There is Shoujinzawa in Shioya district. It is famous for the beautiful stream and beautiful water spring. Shoujinzawa spring water is selected as one of the 100 exquisite and well conserved waters of Japan and the spring water representing Tochigi Prefecture. The temperature of the water is constant, around 11℃ even in summer. It is good spot to take a mystical photo in Shoujinzawa. Bring your tripod and camera with you and you can capture the sun light-beams through the trees in summer early morning.
On the hill behind the brewery also springs out natural water. It is super soft water. They use the water for brewing sake which makes their sake soft texture and fresh aroma.
Matsuno kotobuki Junmai ginjo Omachi is warded a Platinum medal in the Junmai Daiginjo & Junmai Ginjo category at the Kura Master 2018.
Tasting at home by amazon
Matsunokotobuki Junmai 松の寿 純米酒 720ml 1本
Matsui Breweries Co Ltd. Home page
DATE AND TIME
2018/09/06 (Thu)~2018/09/12 (Wed) 10:00~20:00
You cannot go? Check out ichibansake Event Calendar
LOCATION
Ikebukuro Tobu Department Store B1F
1 Chome-1-25 Nishiikebukuro, Toshima, Tokyo 171-0021
Access
Directly connected to "Ikebukuro station"
Web site
For more information visit, 東武百貨店 池袋店 日本酒催事スケジュール