My way of assess and give feedback to students
Kids love jewels and gemstones. I prepare these for rewarding system in the beginning of academic year. This makes encourages students behaviour. Each time students exhibit a desired behaviour, we give jewels them. We let them decorate their own jar. It is like a their treasure box.
Use this rewarding system to support the behaviour that need the most attention. Once jewels is reached certain amount, for example 40, the student gets one eraser. In the beginning, some students do not understand the system but a few weeks later, they suddenly awake and realise, get into collecting jewels.
Early PYP students can learn IB PYP Attitudes and Learner Profiles from group life in the school through this rewarding system. Filling their jar by their own attitude make their confidents. Visualising their behaviour is good impact for Early years whole learning.
Students get into collecting jewels and eraser is the first stage, then they automatically count how many jewels to reach 40. They learn early maths by themselves. Our class students are very good at maths. We also give them jewels collecting chart which they can see how many times they reach 40 jewels. When they reach 40 jewels ten times, they have to collect 50 jewels as the next step. In this stage, students almost forget about erasers, their mind is completely collecting jewels, it means their behaviour. When their behaviour is not acceptable, they lose their jewels, of course.
Some parents love this idea and they do in their completing home chores. Students really love it and they treat it as their treasure. We give them when the end of the school year.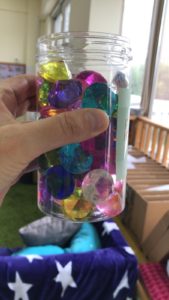 Extra setting: My class teacher is friends of pirates and he can get jewels and gold coins from them. Kids love this story and we made story video "hunting pirates treasure" as well. After watching the video their eyes to see the teacher is like seeing a famous star.