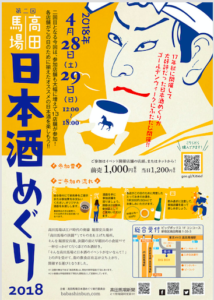 The 2nd Takadanobaba sake crawling 2018
The first time was in september of last year. This time participating restaurants is getting more than last time, 13 restaurants.
How it works:
Pay the participation fee at the reception and they will give you the event special sake cup and map. Advance ticket 1,000 yen / day ticket 1,200 yen ※ Prices include tax.
Go to the participating restaurants with the sake cup, you can taste sake of 300 yen (60 ml). Special event food is 500 yen!
※ You can use the sake cup both 2 days as a participation certificate.
DATE AND TIME
2018/4/28 (Sat) -29(Sun)
12:00 – 18:00 (After 18:00 participant restaurants return to business as usual)
-You cannot go? Check out ichibansake Event Calendar
LOCATION
BIGBOX Takadanobaba 1F concourse (main reception)
1-35-3 Takadanobaba, Shinjuku, Tokyo 169-8677
Access
Get off at Takadanobaba (Seibu Shinjuku Line/JR Yamanote Line/Tokyo Metro Tozai Line) Station; the store is right next to the station
Ticket
Advance ticket: 1,000 yen
Web application form, payment is the day at the reception
Or you can buy advance ticket at the participant restaurants.
Day ticket: 1,200 yen at the reception
Web site
For more information visit, It is pub crawl to one hand in bottle and cup♪
Participant restaurants
1.そば居酒屋 太閤 (大久保3丁目)
2.居酒屋まき野 (高田馬場3丁目)
3.日本酒庵 吟の邑(高田馬場3丁目)
4.居酒屋 へぎそば昆(高田馬場1丁目)
5.炭火焼鳥 鳥でん(西早稲田3丁目)
6.居酒屋 繋(高田馬場3丁目)
7.和バル処 えんじ(西早稲田3丁目)
8.CHICAFE Atelier Leaf(高田馬場3丁目)
9.16's Stairing Steps Case(高田馬場2丁目)
10.角家(高田馬場3丁目)
11.やだらめぇ(高田3丁目)
12.東京MEAT酒場(高田馬場1丁目)
13.清(SEI)(高田3丁目)