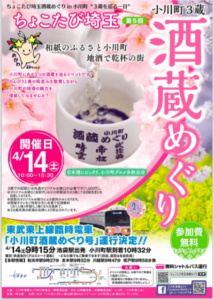 Ogawa is located in central Saitama Prefecture. There are 3 historical breweries in Ogawamachi, you can do brewery tour and tasting with special event sake cup. There are plenty of food from local pop up shop. Free suttle bus link 3 brewries you can get on from Musashitsuru brewery (武蔵鶴酒造) 5min walk from Ogawa station.
Ogawamachi Station… (5 min. on foot)… Musashitsuru brewery ← (bus 3 min.) → Seiun brewery ← (bus 7 min.) → Matsuoka brewery
3 breweries
Musashitsuru brewery is also award wining sake brewery. Hiki basin's cold winter and fresh water brew rounded sake taste. This brewery's special vegetables pickled in sake lees is very good reputation.
Seiun brewery established in 1902. About 70 to 80% of the ingredients of rice is from local, having adamant about own high polished rice and traditional style that small amount of handmade
in naturally low winter temperature.
Matsuoka brewery established in 1851. Their representative sake, Mikadomatsu is 8 years consecutive No.1 Gold Winner Sake Brewery of the National Sake Award Competition highest record holder in Saitama prefecture. Their sake is made from carefully selected Yamadanishiki rice, 130m under natural groundwater and long history of tradition and abundant skillful Toji (chief sake brewer).
DATE AND TIME
2018/4/14 (Sat)
10:00 – 15:30
You cannot go? Check out ichibansake Event Calendar
LOCATION
Musashitsuru brewery (武蔵鶴酒造)
7-2 Shimofurutera, Ogawa, Hiki-gun, Saitama Prefecture 355-0326
Access
5 min walk from Ogawamachi Station
Ticket
Purchase event sake cup (1,000yen)
Web site
For more information visit, ちょこたび埼玉酒蔵めぐり